PROFESSIONAL ELECTRIC MOTORIZED MULT-IFUNCTIONAL KNIFE, SCISSORS, CHOPPERS, CLEAVES, STEAK KNIFE, SCREW-DRIVERS, AND OTHER FORMS OF BLADE SHARPENER
SPECIFICATION

SAFE TO USE: The non-slip base will ensure the sharpener is FIXED IN ONE PLACE while working. And knife sharpening angle guide allows you to maintain CORRECT ANGLE and safely apply consistent pressure while sharpening the blade.
EASY & CONVENIENT: Just press the power button, insert the blade in the guide, slide, and your favorite knife are restored. NO MESS while sharpening & it can be easily cleaned.
MULTIAPPLICATION: Highly durable & long-lasting. It can sharp ANY BLADE out there, be it any kitchen knife set, chef knife, steak knife, choppers, cleavers, scissors, and so on.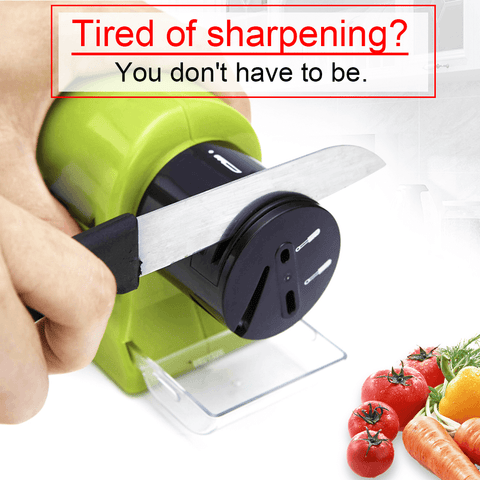 PREMIUM QUALITY: ABS+ electronic element + grinding stone. Professional grade, high-speedrotating sapphire stone shapes, and hones the blade.
SPECIFICATION

1. Applicable to all kinds of knives, such as cutting knives, bone knives, small kitchen knives, fruit knives, etc.
2. Ultra-high-speed motor, won't jam the wheels, stable output and no knife damage.
3. With protective cover, which can be used safely and effectively prevent metal scraps from splashing and hurting people.
4. Beautiful and easy to operate.
5. Sharpen the knife in 5 seconds, no more blunt knives.


2 KNIFE SHARPENER @

N25,999
3 KNIFE SHARPENER @

N35,999
CAUTION!!!
DO NOT PLACE AN ORDER IF YOU KNOW THAT:
*YOU ARE NOT READY FOR THIS PRODUCT
*TRAVELLING
*NO MONEY FOR THE PRODUCT
*YOU DO NOT TAKE CALLS FROM UNKNOWN NUMBER.
*THIS IS TO AVOID WASTE OF RESOURCES AND TIME.
NOTE ! DELIVERIES WITHIN LAGOS, IBADAN, ABUJA, WARRI, OWERRI, PORT HARCOURT, UYO AND ENUGU IS WITHIN 24 HOURS
WARNING:
ANY DELIVERY OUSTIDE LAGOS, IBADAN, ABUJA, WARRI, OWERRI, PORT HARCOURT, UYO AND ENUGU, MUST PAY IN FULL BEFORE ORDER WILL BE PROCESSED.
THIS IS EXACTLY WHAT WE ARE GOING TO DELIVER TO YOU, IF YOU LOVE IT, PLEASE PLACE YOUR ORDER BY FILLING THE FORM BELOW
FOR SERIOUS CUSTOMERS ONLY
TO PLACE YOUR ORDER, PLEASE FILL THE ORDER PLACEMENT FORM BELOW AND SUBMIT
FEEL FREE TO ASK US ANY QUESTION AND WE WILL BE GLAD TO ANSWER THEM.
CALL
08064284912