Leak repair spray is a must to keep in the cupboard at home. It is ideal for repairing leaks in pipes, guttering, drains, walls, tiles, windows and roofs. It seals by seeping into the cracks and holes. it remains flexible and pliable for years and protects the surface from corrosion. once dry, you can paint it any colour. great value 450ml size
Availabe Colors White/Gray



Fast Acting Leak Stopper With Just A Spray!
The anti-leaking sealant spray is an innovative spray that effectively seals, and repairs broken surfaces. it is a water-based sealant that is paintable and can be used to waterproof a large variety of surfaces.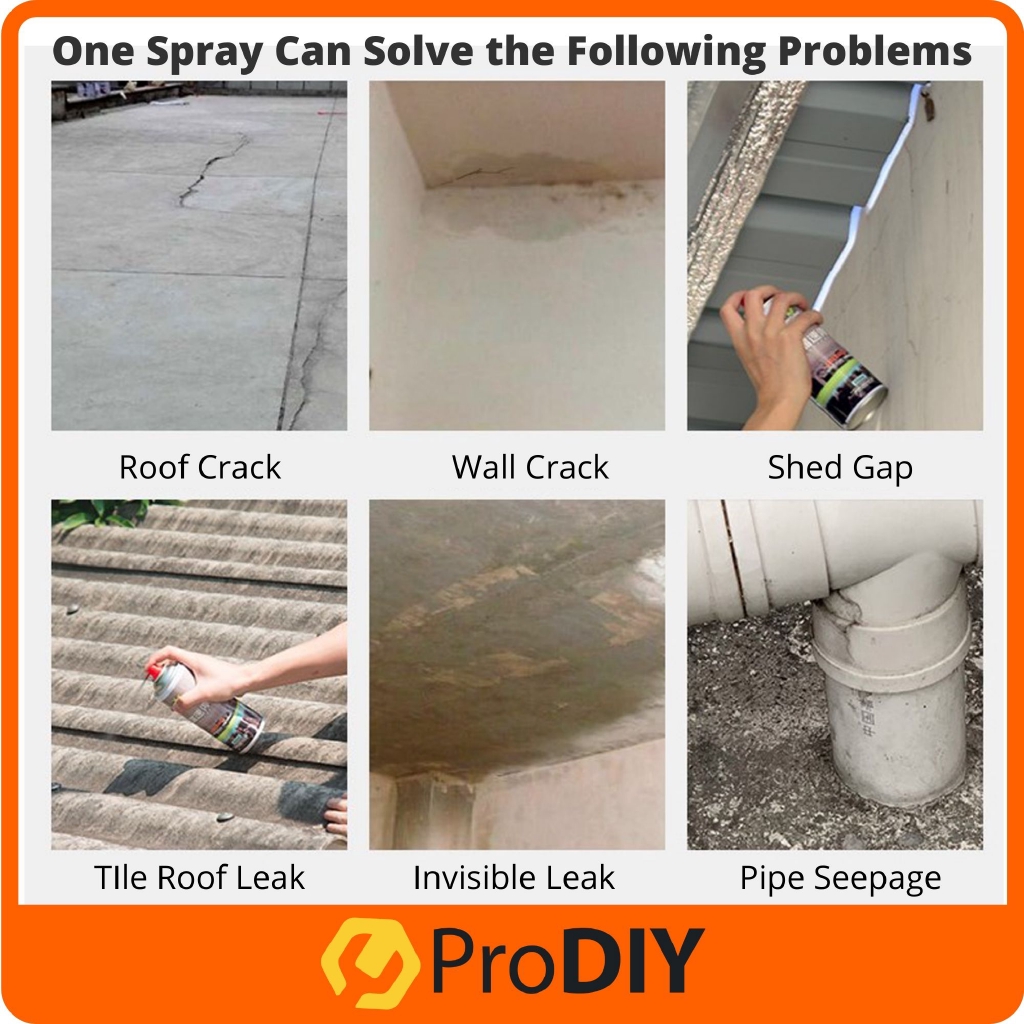 Stop leaks and fix broken surfaces with this Anti-Leaking Sealant Spray, it effectively seals and repairs cracked surfaces in seconds!
Water Stop Wet and Dry Sealant is a waterproofing sealant for all types of roof repair. It works both on wet and dry surfaces
INSTRUCTIONS ON HOW TO USE:
1. Clean up the base surface, remove surface dust, remove impurities and dirt, keep the surface solid and clean.
2. Treatment of large seams : if more than 5mm seams are covered with fibreglass before construction.
3. Construction method :
Shake the bottle before use, spray evenly on the construction base, and spray once again after an hour ( 2 spraying is recommended )
4. Waiting for curing :
The surface drying time is 20-30 minutes, the curing time is about 24 hours, depending on the actual curing words.
Features:
✅Instant sealing spray - Water-based sealant that effectively seals cracks and broken joints instantly to prevent leaks. Waterproof and paintable.
✅Strong adhesive - Provides a tough and flexible layer of protection to the applied surface. High bonding strength for complete leak-proof sealing.
✅Used for sealing joints and gaps for all construction materials at home or outdoors.
✅Long-lasting protection - Guarantees long-term and permanent preservation when it is applied. Save money and time in a quick DIY fix.
✅Safe - Formulated with odorless and non-toxic substances. Will not damage surfaces, and will not cause pollution.
✅450ml
Product Benefits
Superior bonding strength compared to other types of adhesives.
Prolongs durability of the material.
Prevents penetration of water and moisture that may cause damage on the material.
PAYMENT ON DELIVERY & FREE SHIPPING
NOTE ! DELIVERIES WITHIN LAGOS, IBADAN, ABUJA, WARRI, OWERRI, PORT HARCOURT, UYO AND ENUGU IS WITHIN 24 HOURS
TO PLACE YOUR ORDER, PLEASE FILL THE ORDER PLACEMENT FORM BELOW AND SUBMIT
FOR MORE ENQUIRIES, PLEASE CONTACT 08064284912